Home Tour: Our Second Home
Welcome to our second house!
Chris and I both have mixed feelings about this house and ultimately we both really loved the house, we just weren't ready for suburb living. We lived here for exactly 2 years and 2 weeks. But this post is all about the photos, so let's dive in and I'll share more about the house through photo descriptions. Shoutout to Patrick Sheehan for the great listing photos.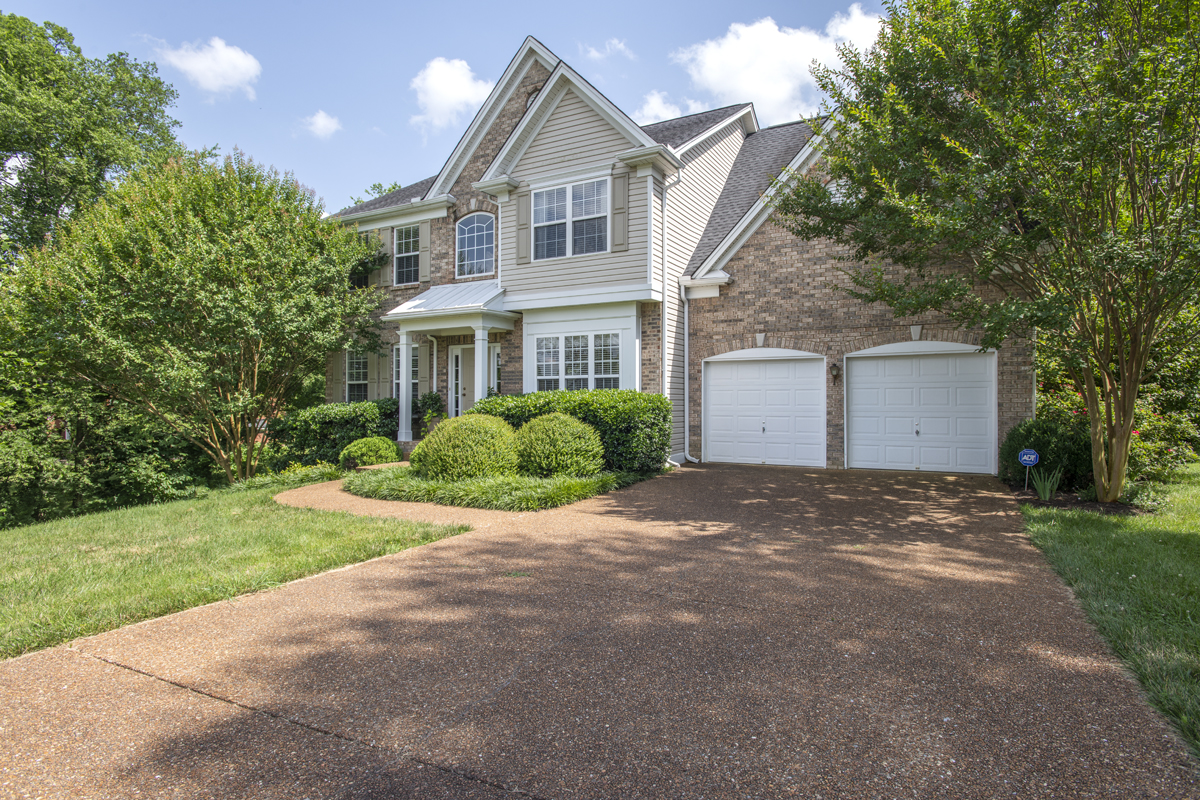 To be honest… the outdoor color scheme of the house didn't make the best first impression on me, but I grew to love it!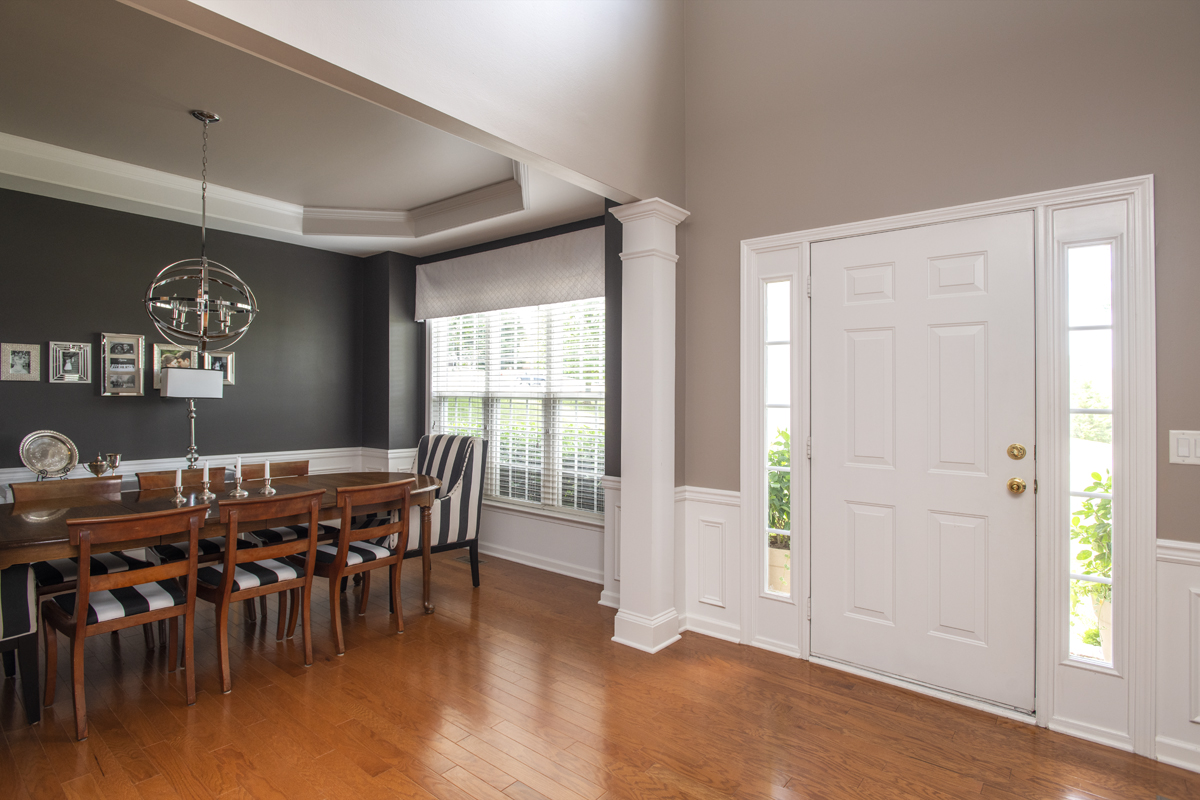 When we walked in, we were sold because of the height in the entry!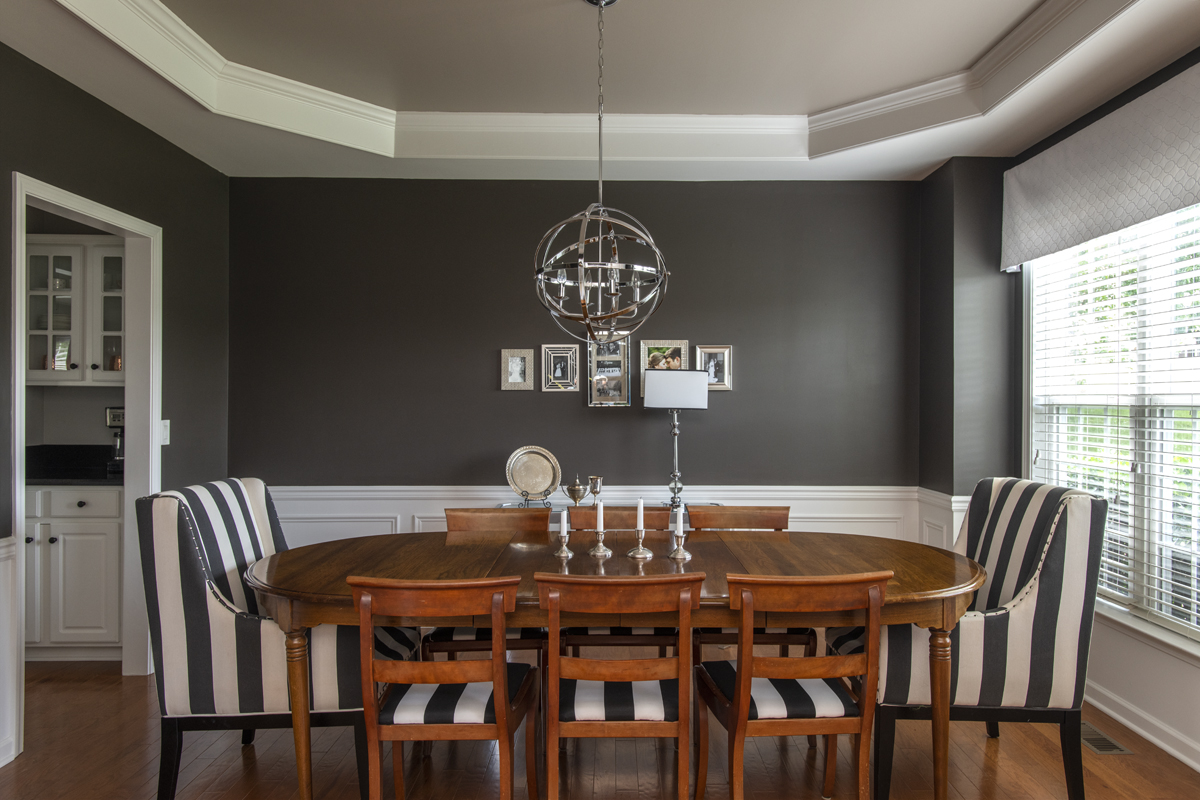 Black walls! I had so much fun experimenting with black walls at this house thanks to all the natural lighting and open space. Another thing to note - this table was Chris' grandparents (learn more about them in my First Home Tour post) and the table behind it (which you can't really see) was my great grandmother's.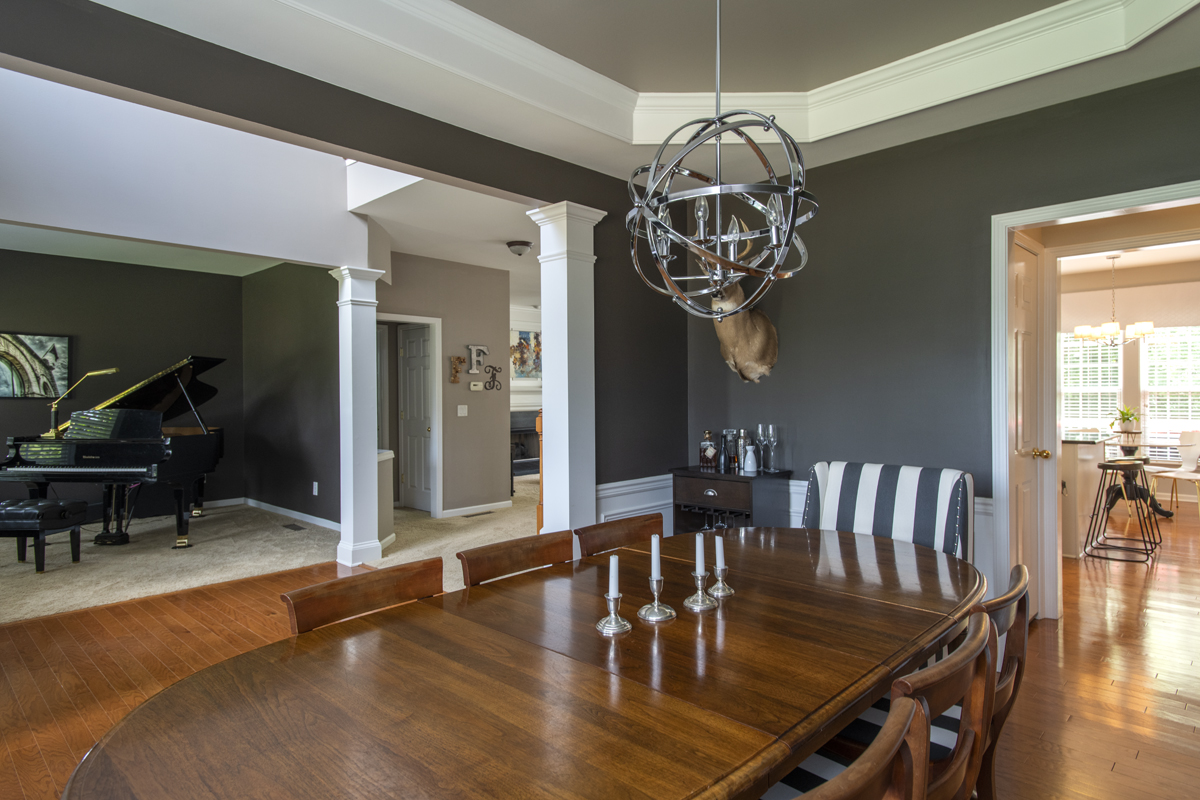 One of my favorite things about this house was being able to stand in one room and see into several others at the same time! Props to Chris for picking out this light fixture. He hated the one before SO much (it had beaded tassels) that he went out on his own and got this one!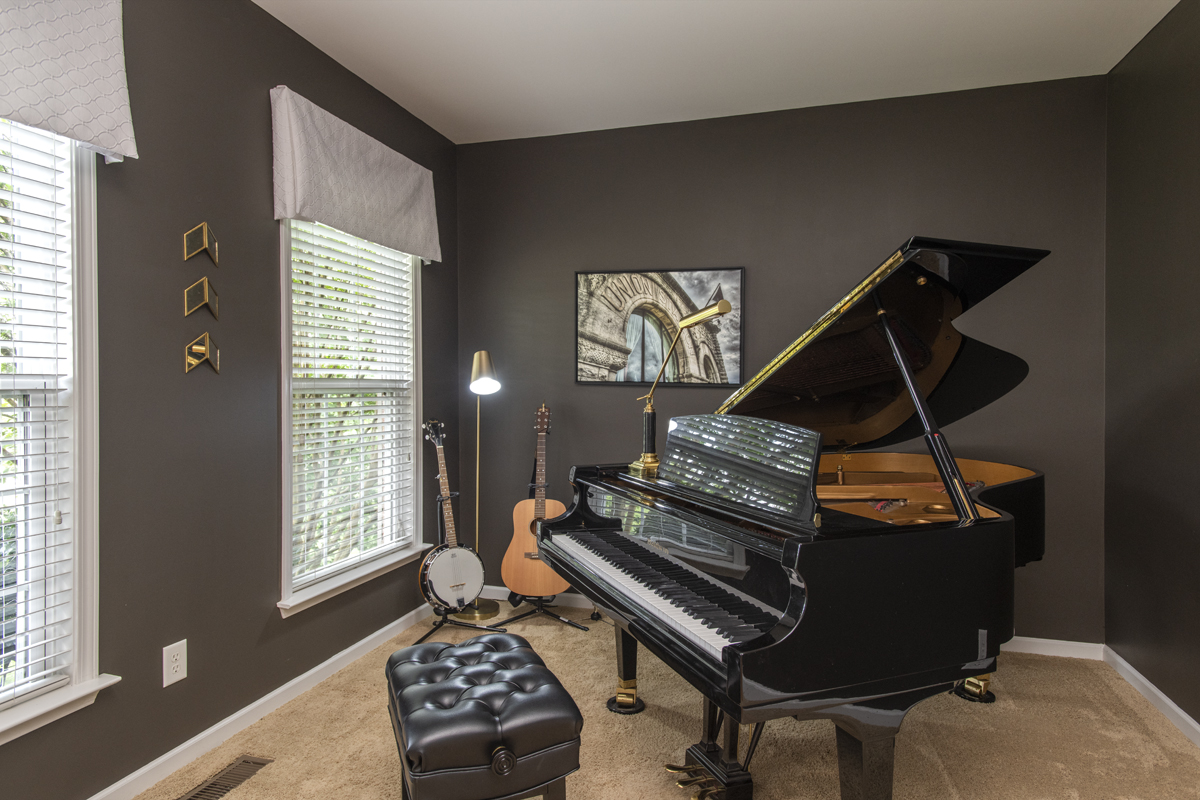 Black on black became my favorite thing!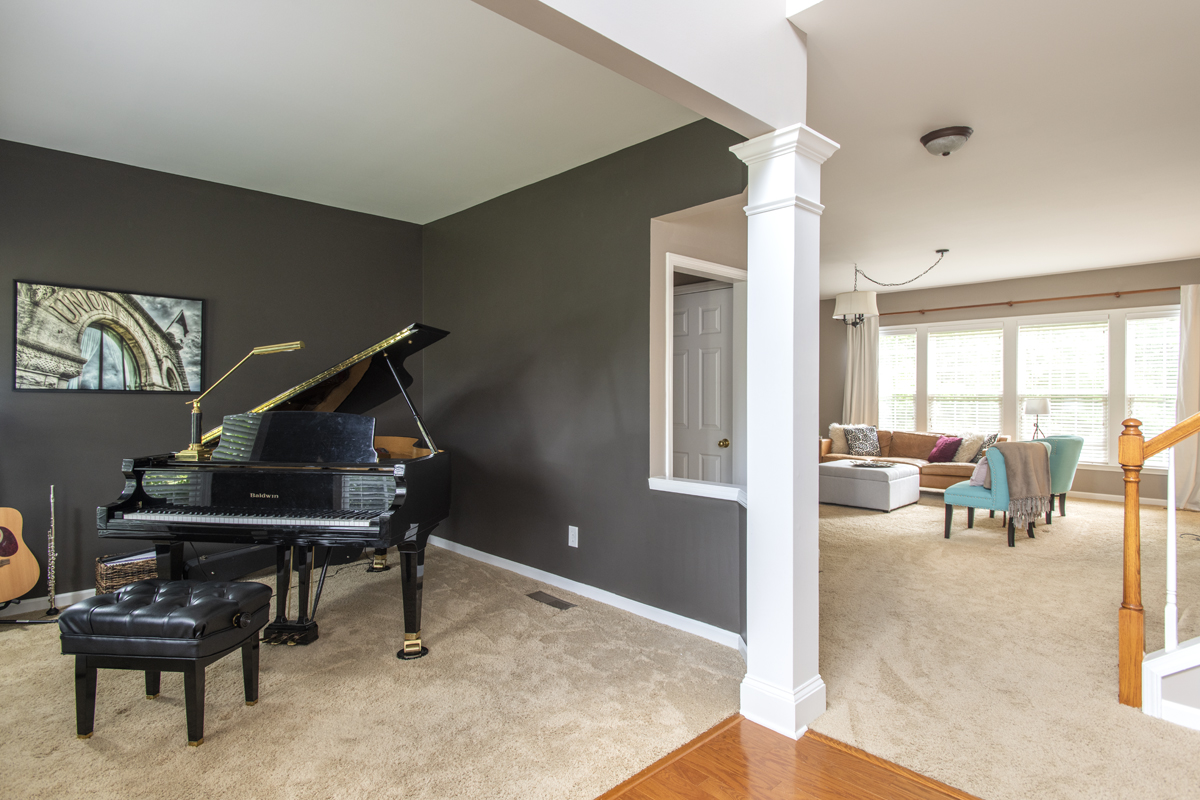 We (a couple painters and me) painted the majority of the walls AND ceilings in this house. All the ceilings on the first floor were a light yellow - which we didn't notice until I started painting everything gray. Goodbye yellow, red, and green… hello black, gray, and white!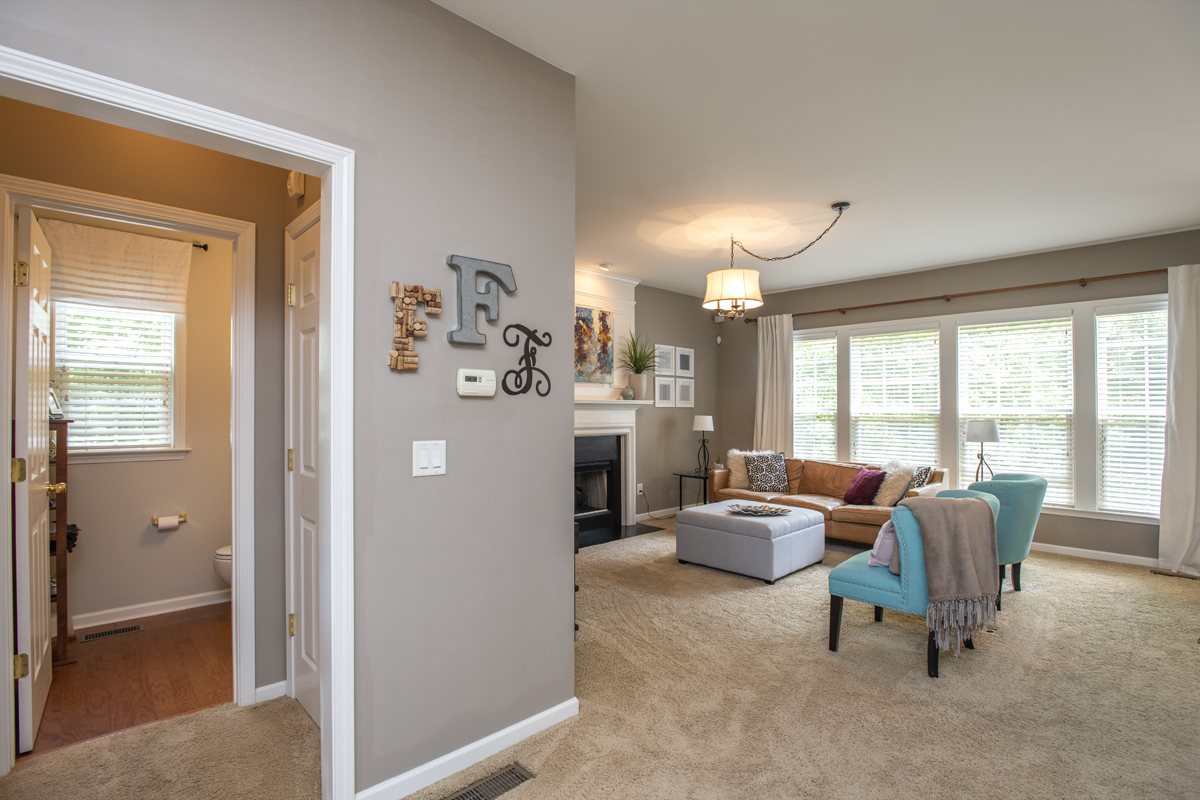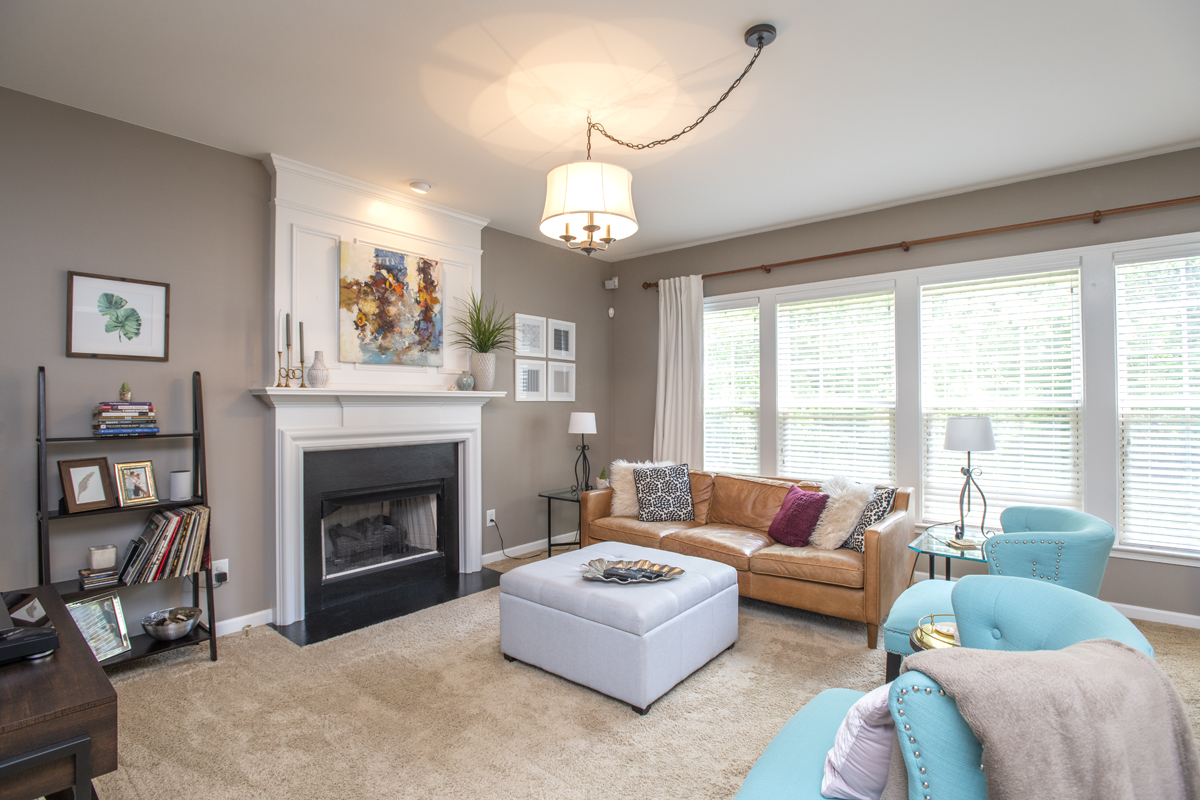 Fun story… we went to Lowes for a fun date night on our anniversary to just shop for fun and found this light for $24!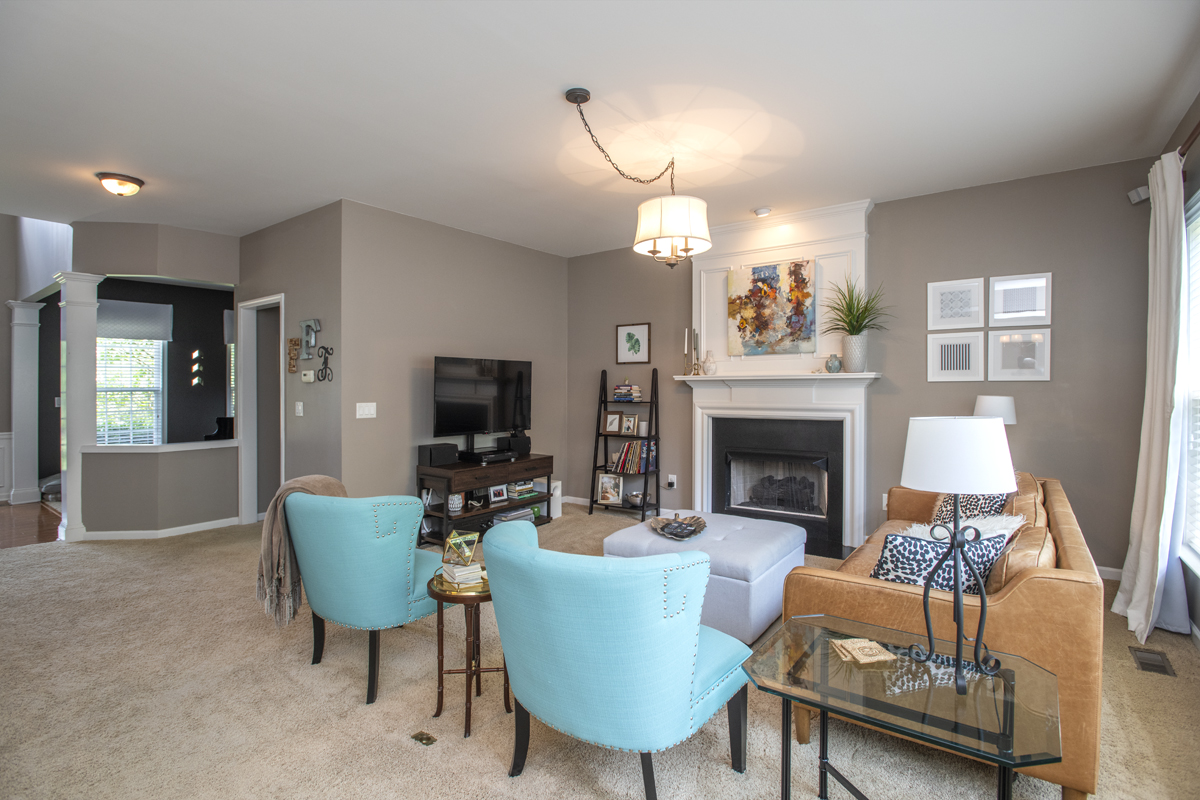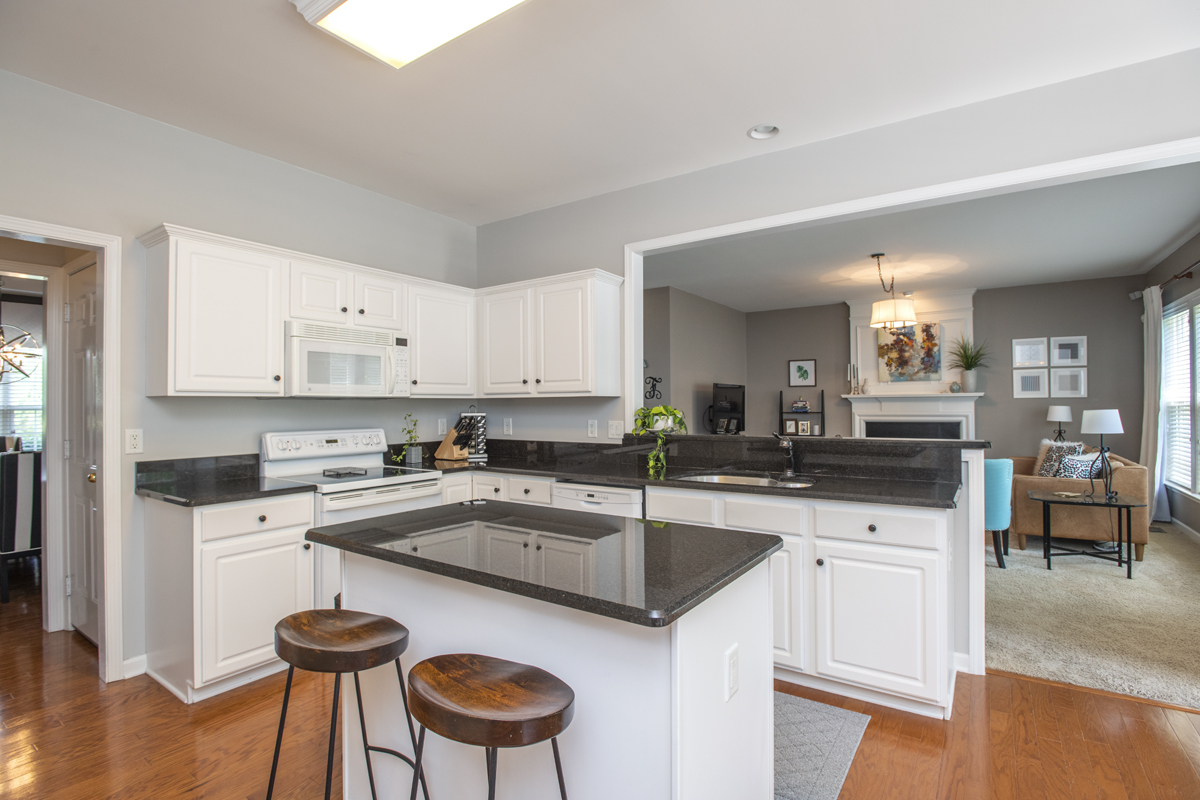 One of my first paint projects was covering up the red walls in the kitchen! It actually only took 2 coats!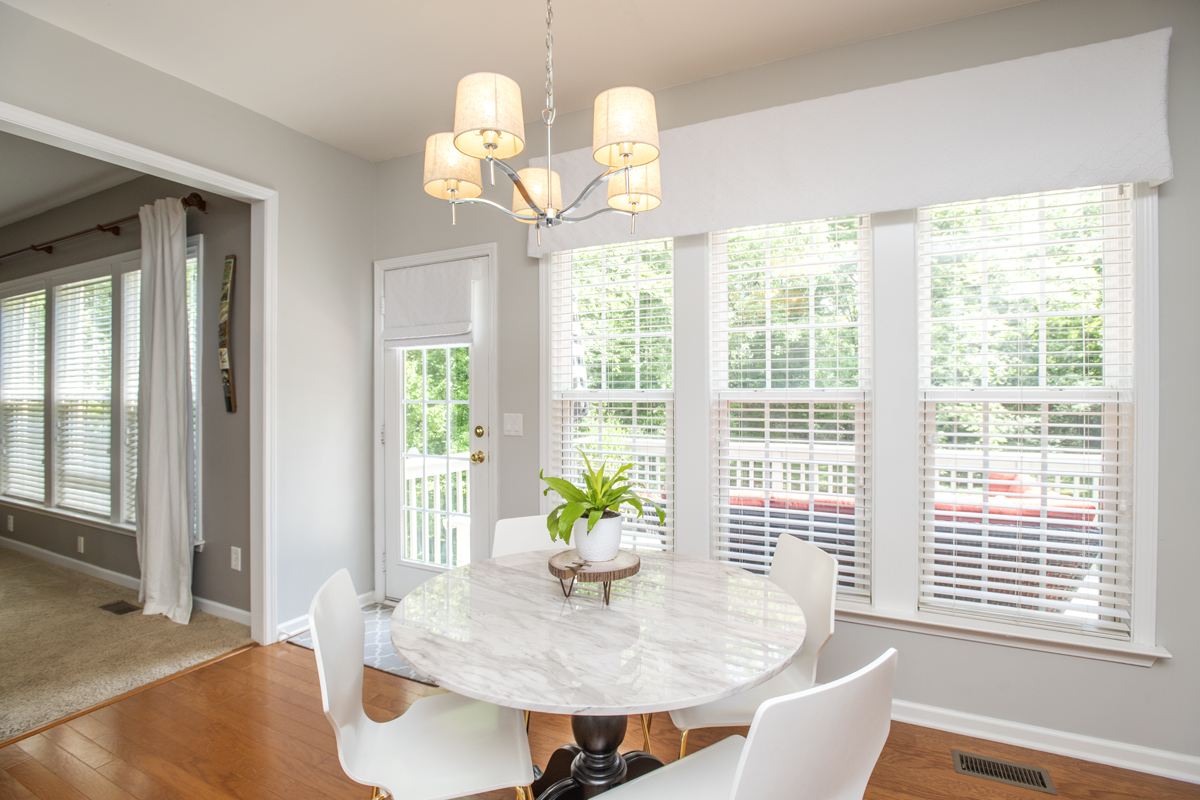 Some of the best morning light came in through these windows!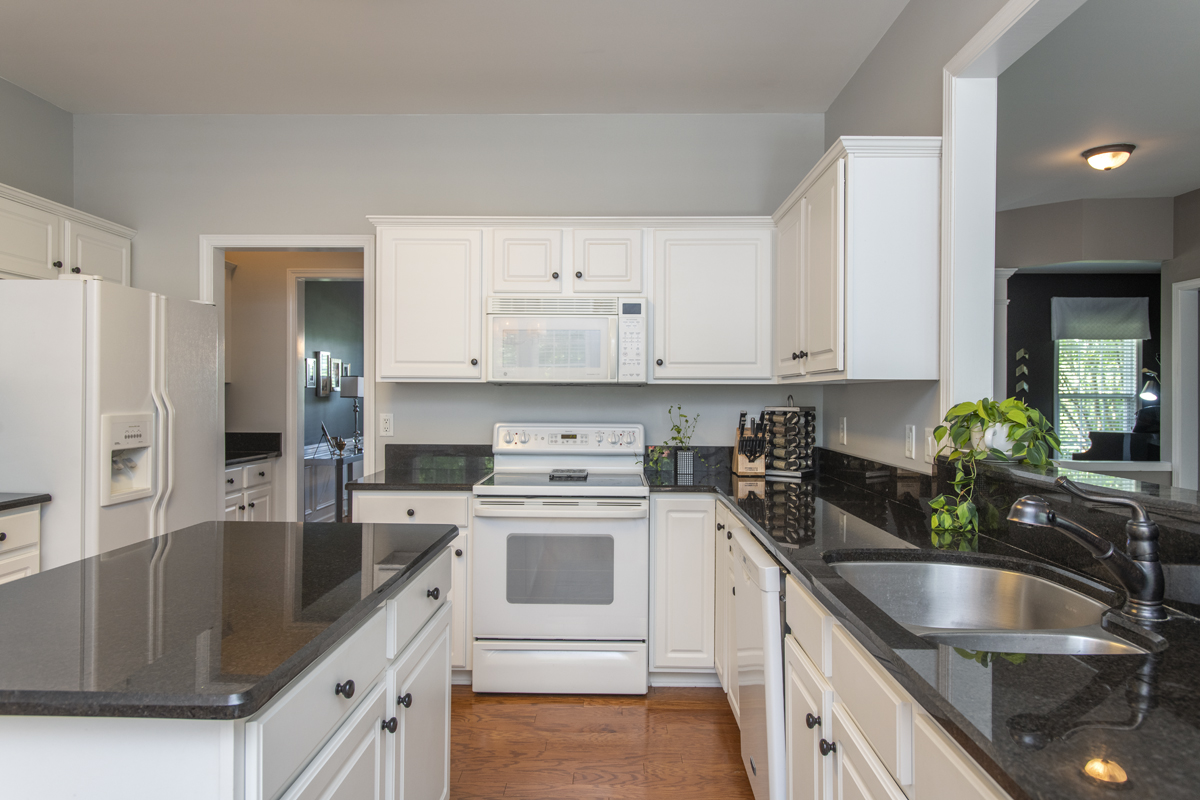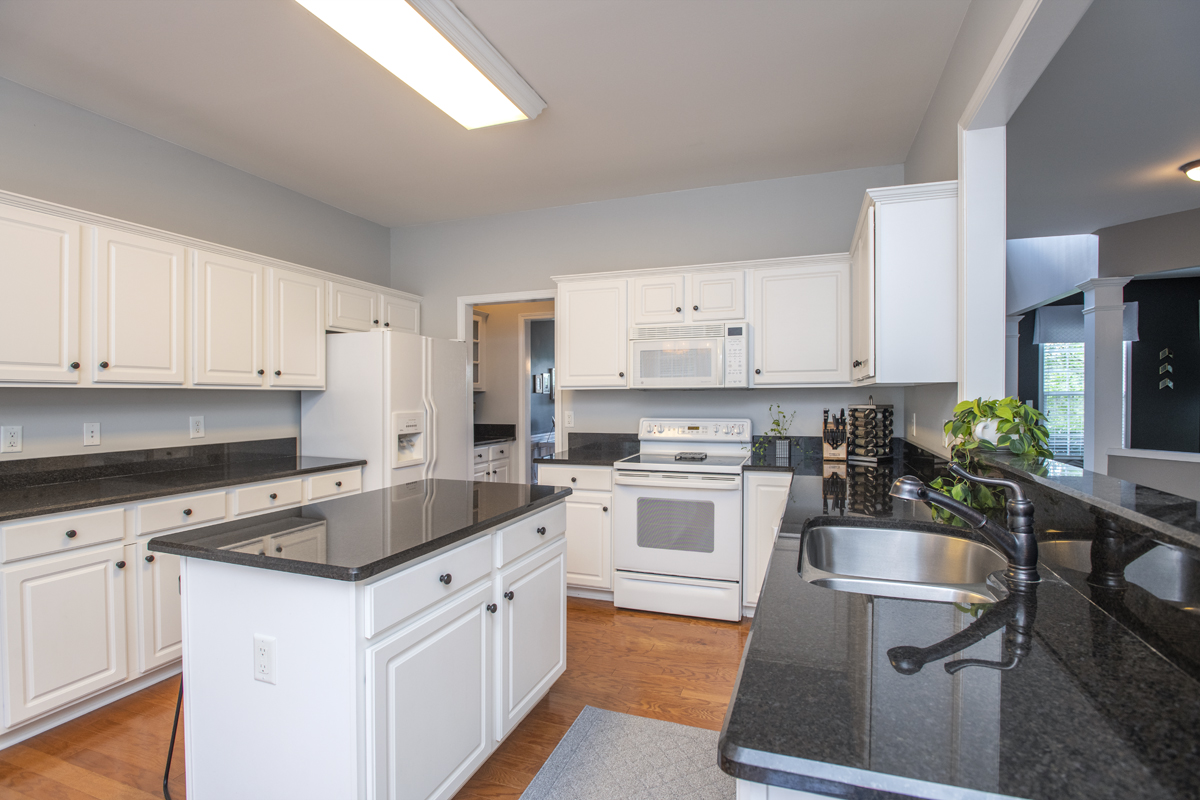 There were a lot of things we would've liked to do in this kitchen but never got around to.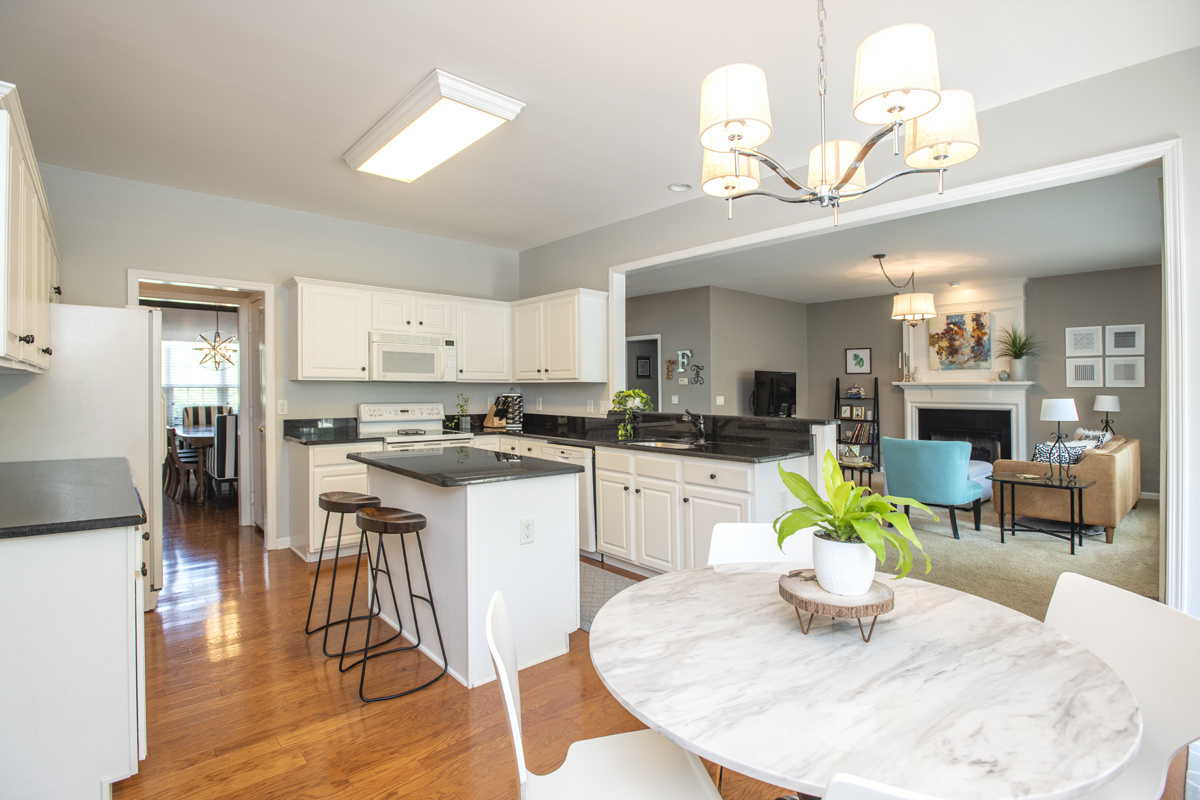 This laundry room project was supposed to be a quick weekend project but turns out - painting behind a washer and dryer when there's a built in sink isn't the easiest thing to do. I used leftover paint to cover the beige and Chris used some leftover wood to go on top of the wire shelving. And of course, a new Lowes light.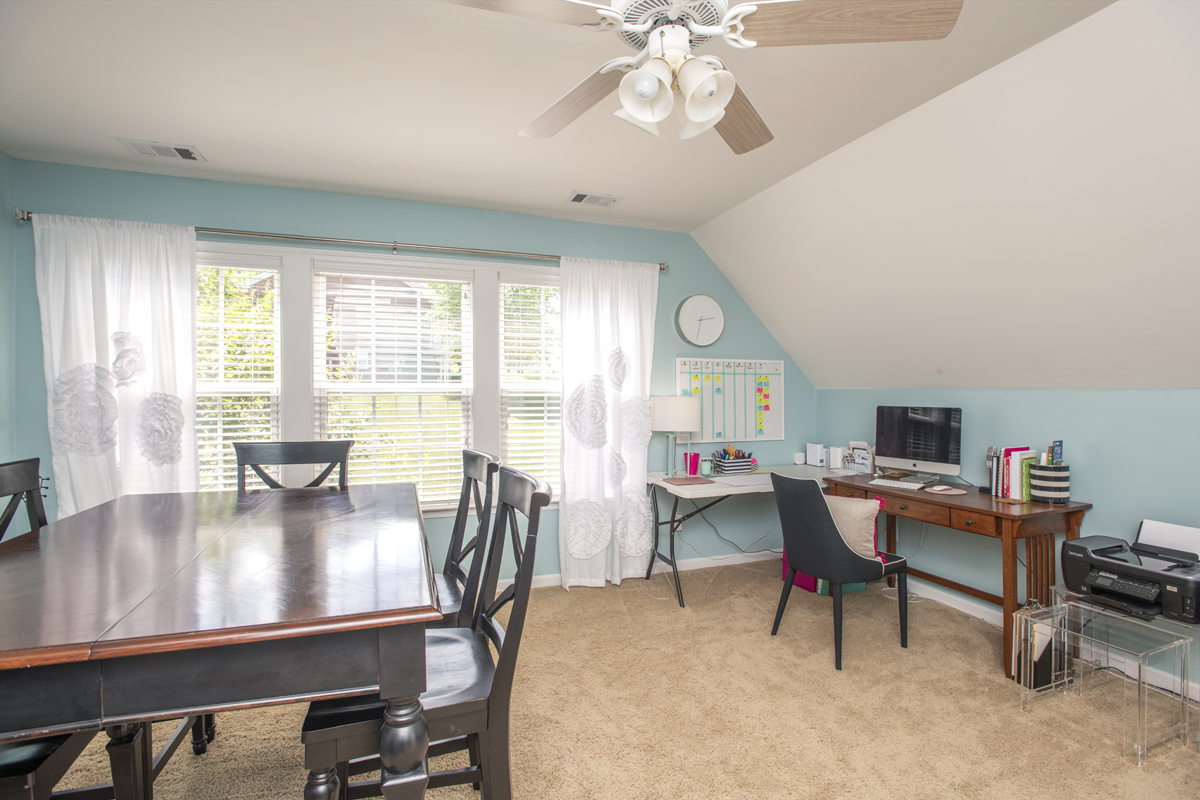 Upstairs to the bonus room aka my office. It started as Chris' workout room but then he sold his weights and I moved in! As you might have already guessed, I painted the walls in here - Sherwin Williams Watery.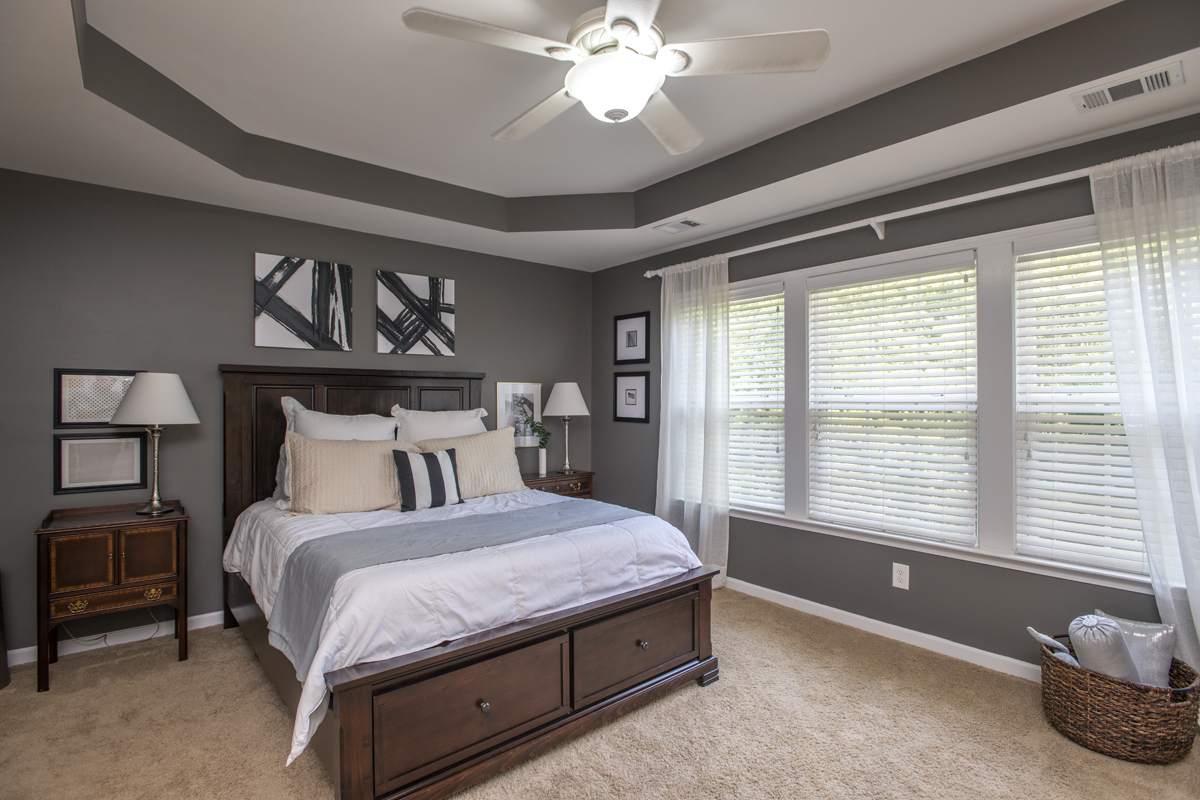 This room was also one of the first paint projects (I think it might've even come before the kitchen - I can't remember). Chris called the existing color Crayola blue… and he wasn't having it!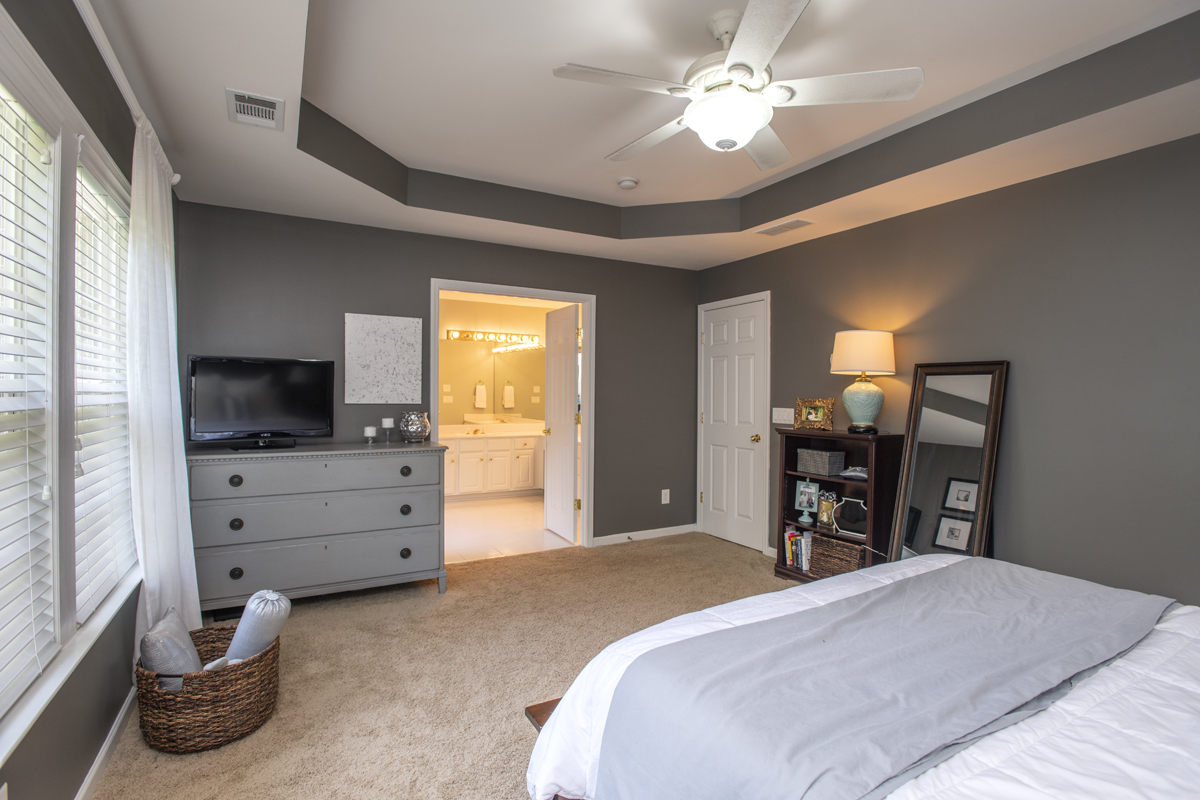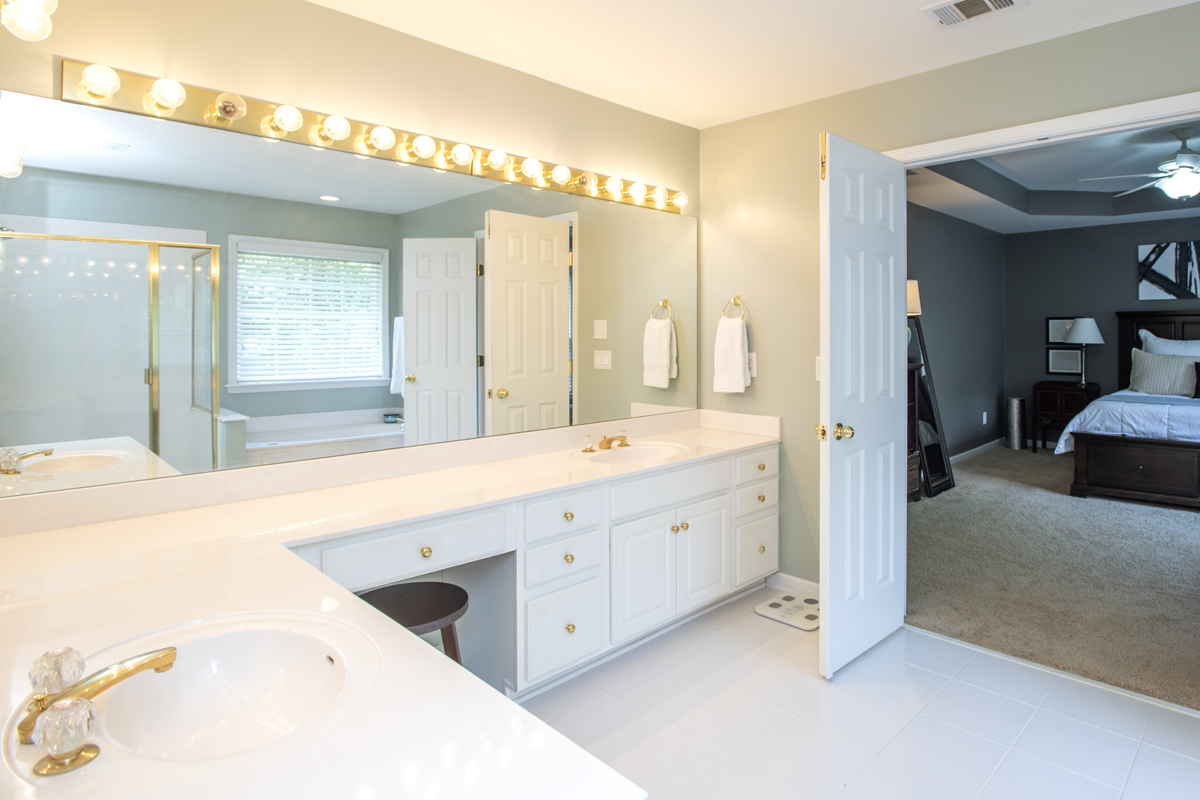 The space in here!! SO MUCH ROOM. We always talked about getting new vanities, floors, shower tile, new tub, new lighting… but we moved instead ;-)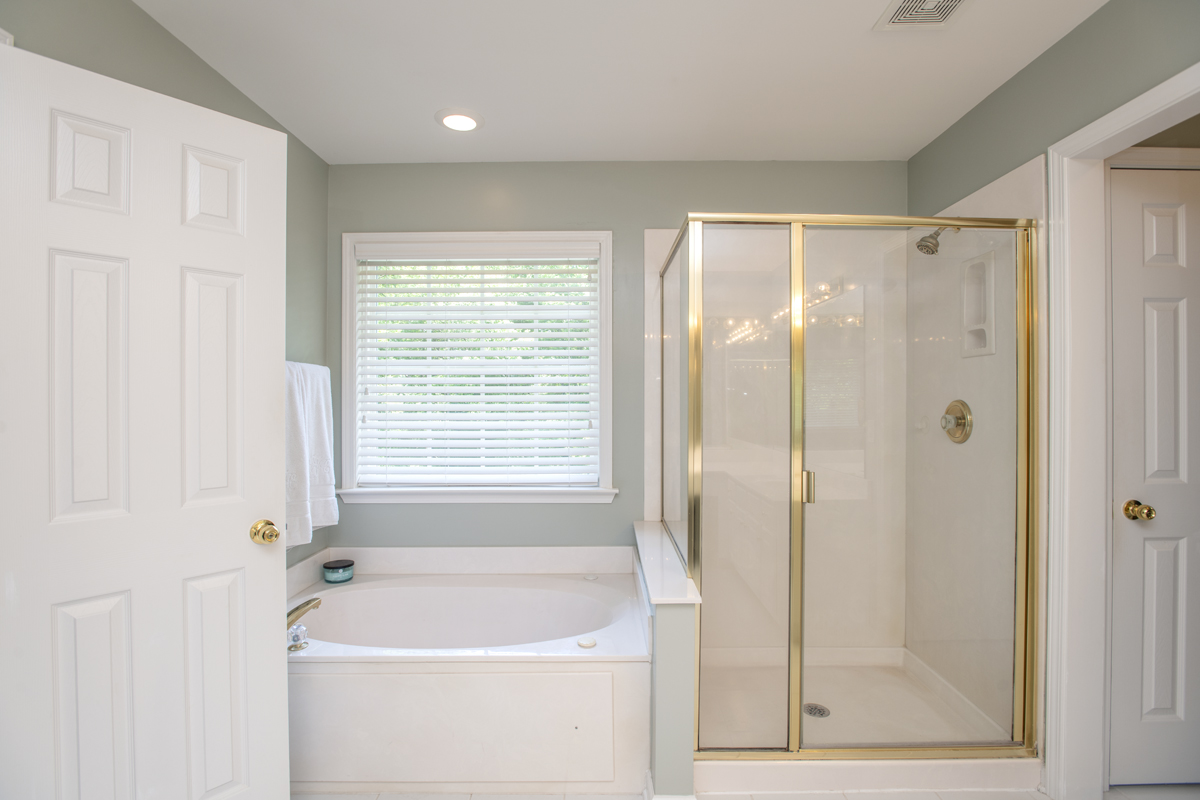 I do miss having a big tub with jets…
Chris took down all of the wire shelving (which was pretty much falling down on its own anyways) and installed this nice shelving! While we had the house on the market we took everything out, gave the walls a fresh coat of white and added a big mirror over the bench seat.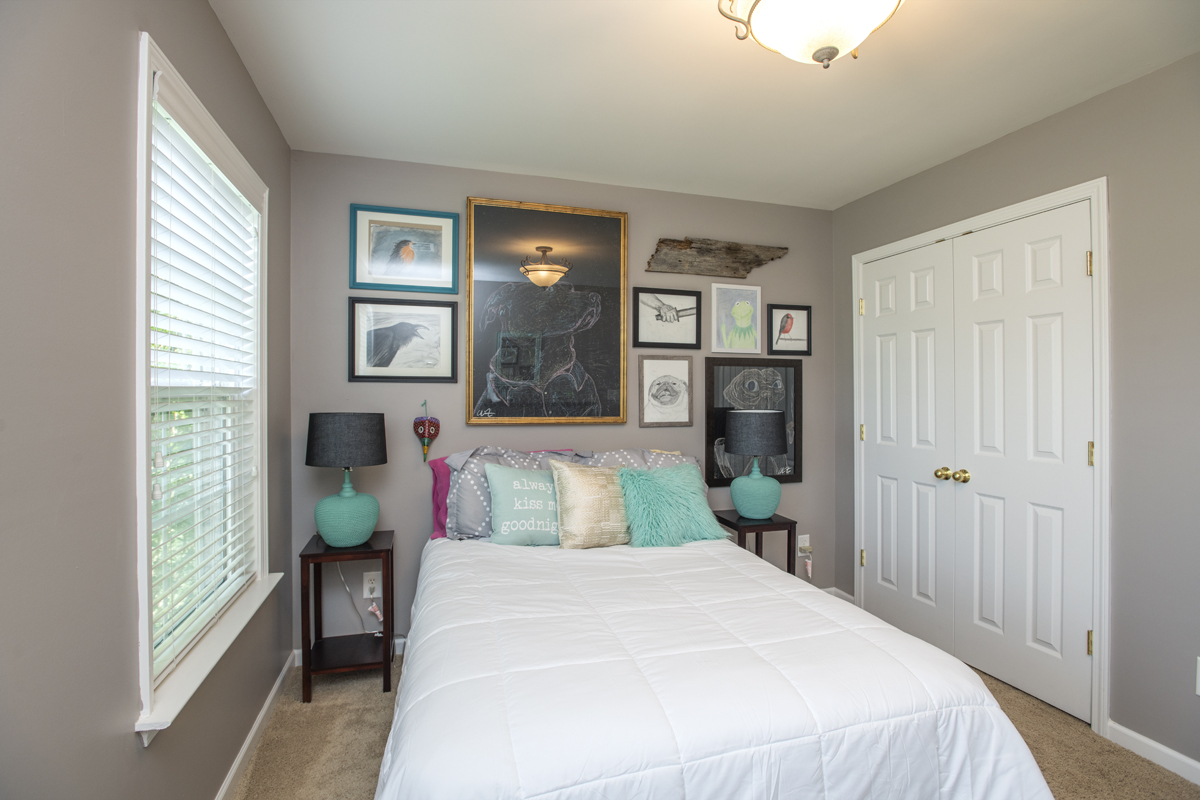 This guest room turned into Chris' art gallery! This wall color I used throughout a lot of the house - Sherwin Williams Perfect Greige.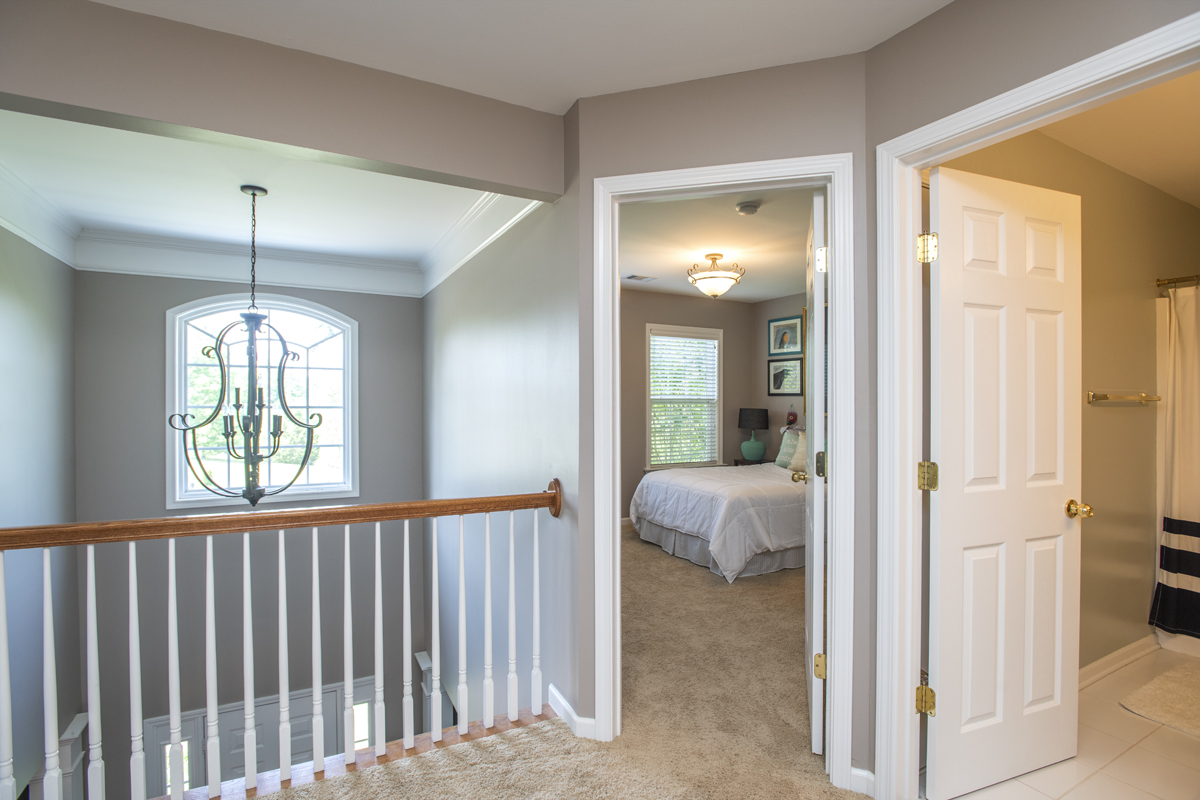 Another new light! There used to be a really small light here but we got this beauty from Discount Plumbing and Electric (Franklin, TN) for a great deal!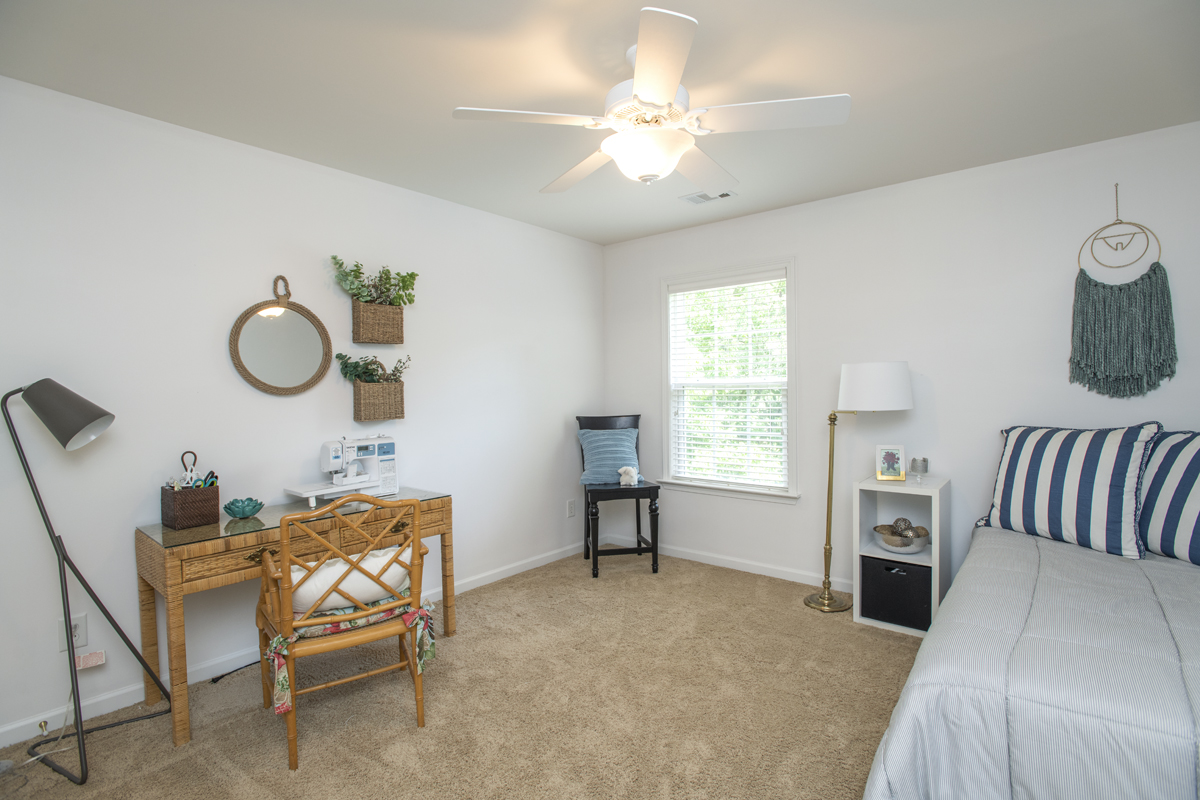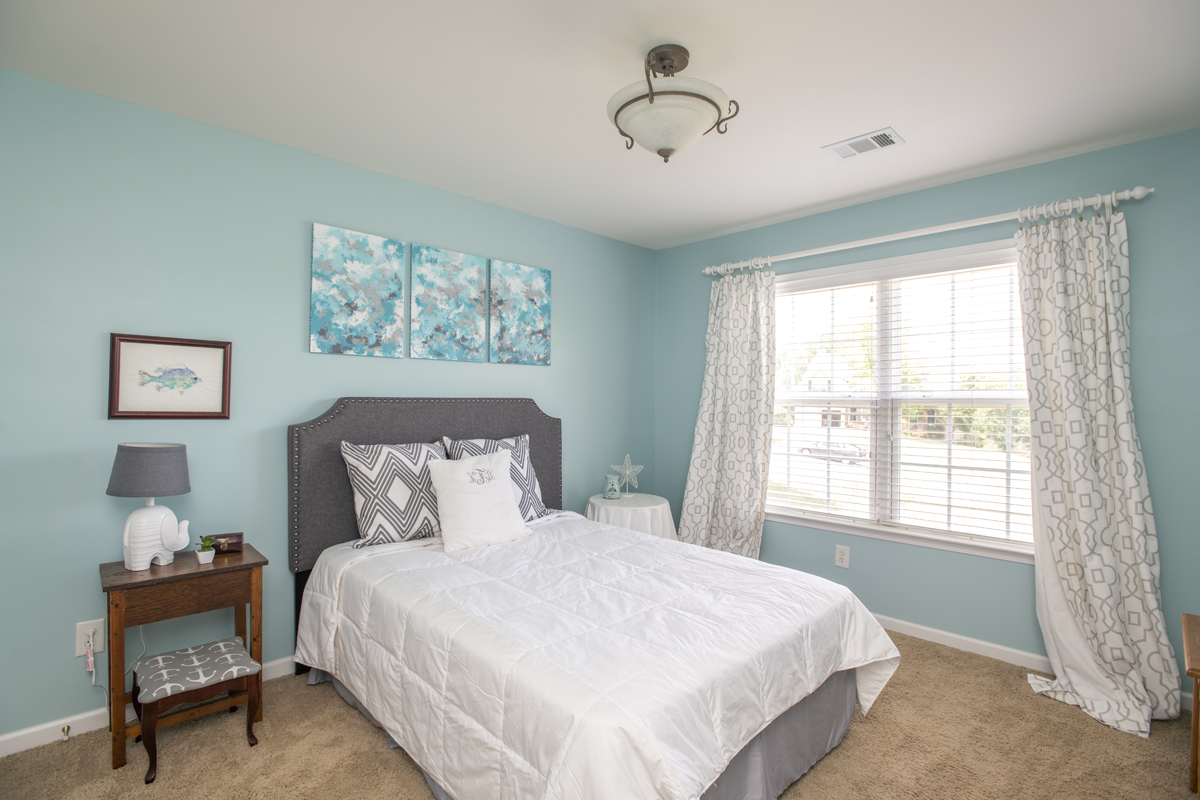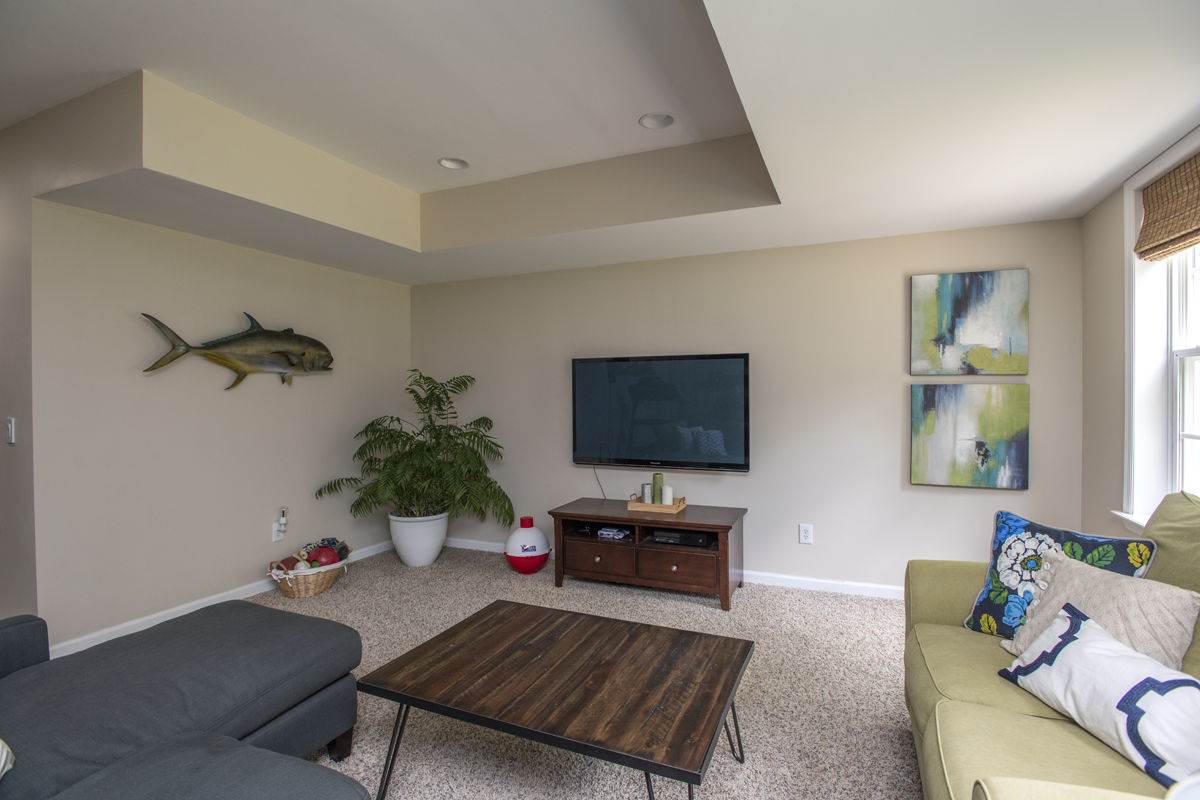 Welcome to the basement. Yes, it's beige because I never got around to painting this room.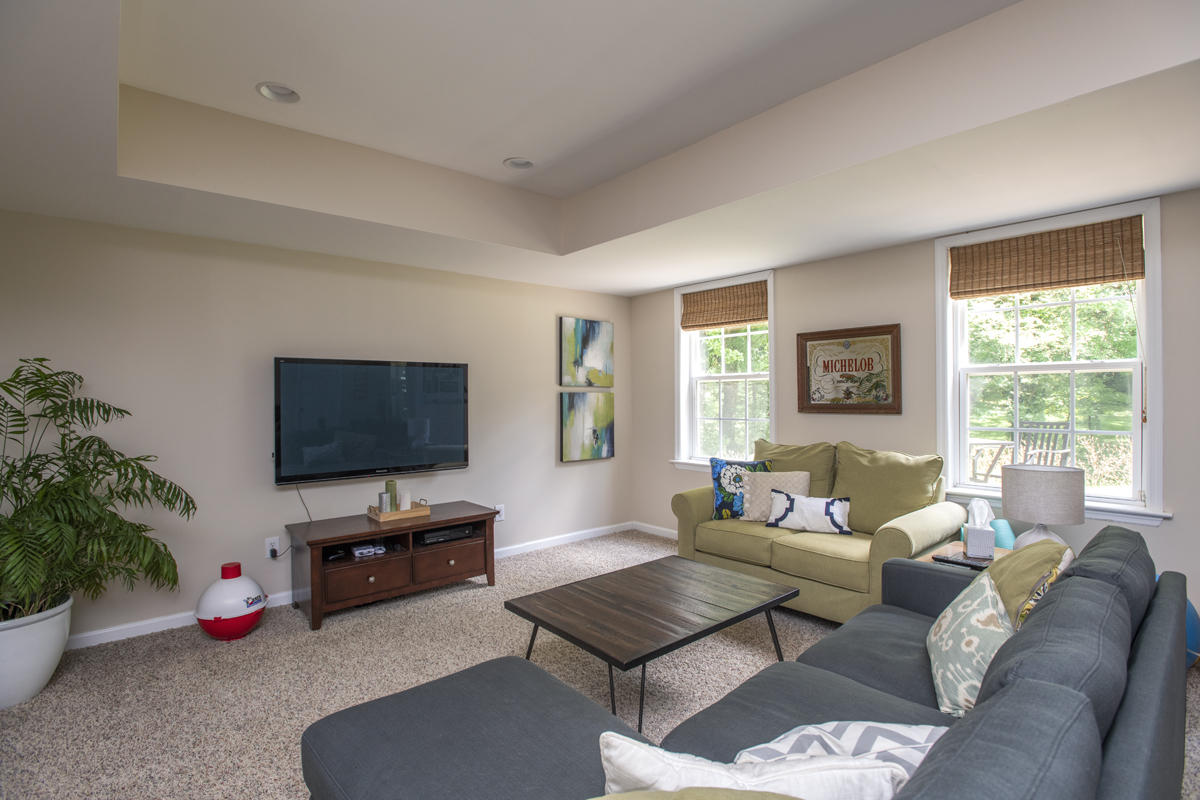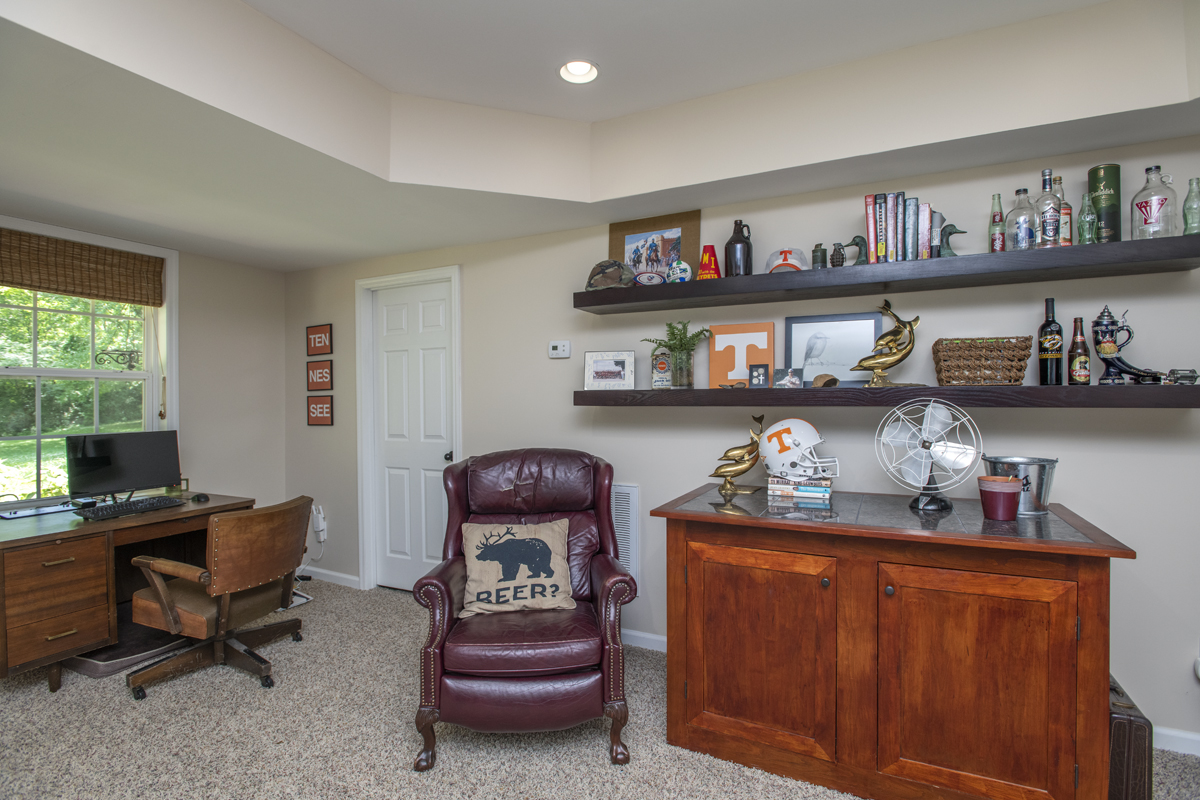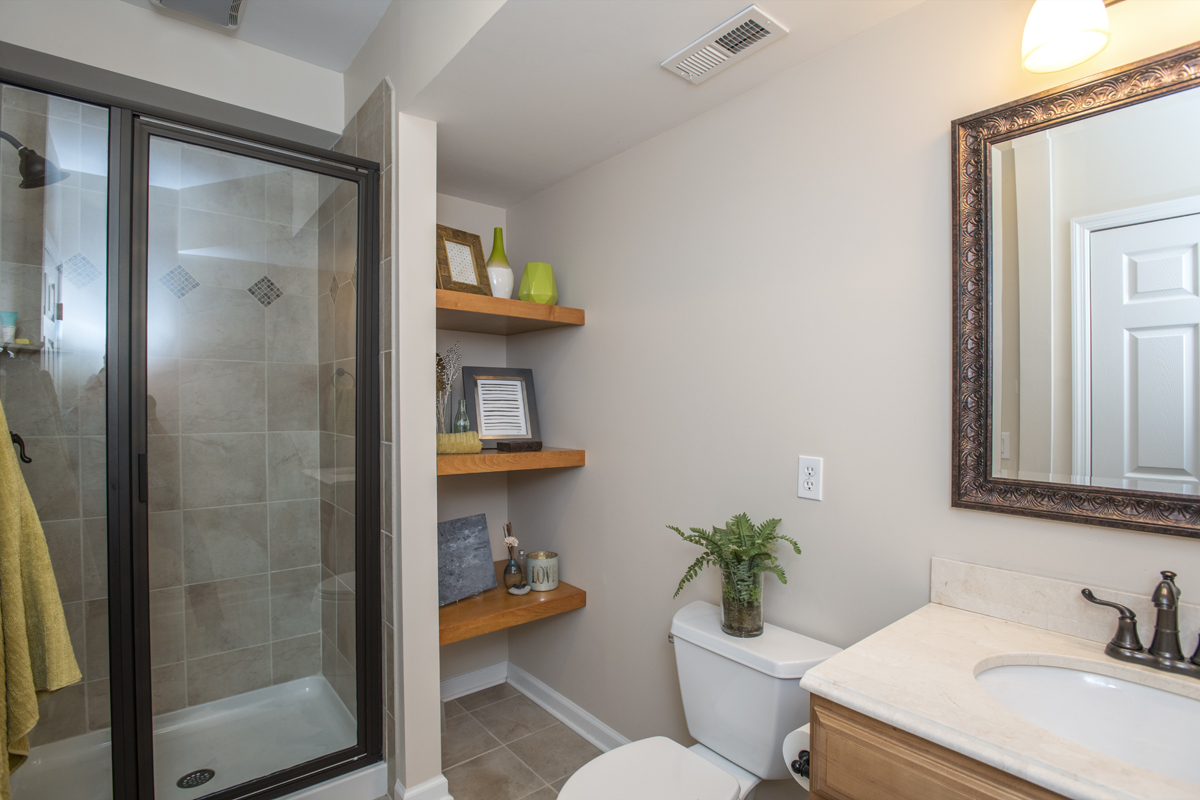 My "Party Closet!" Every girl needs one of these!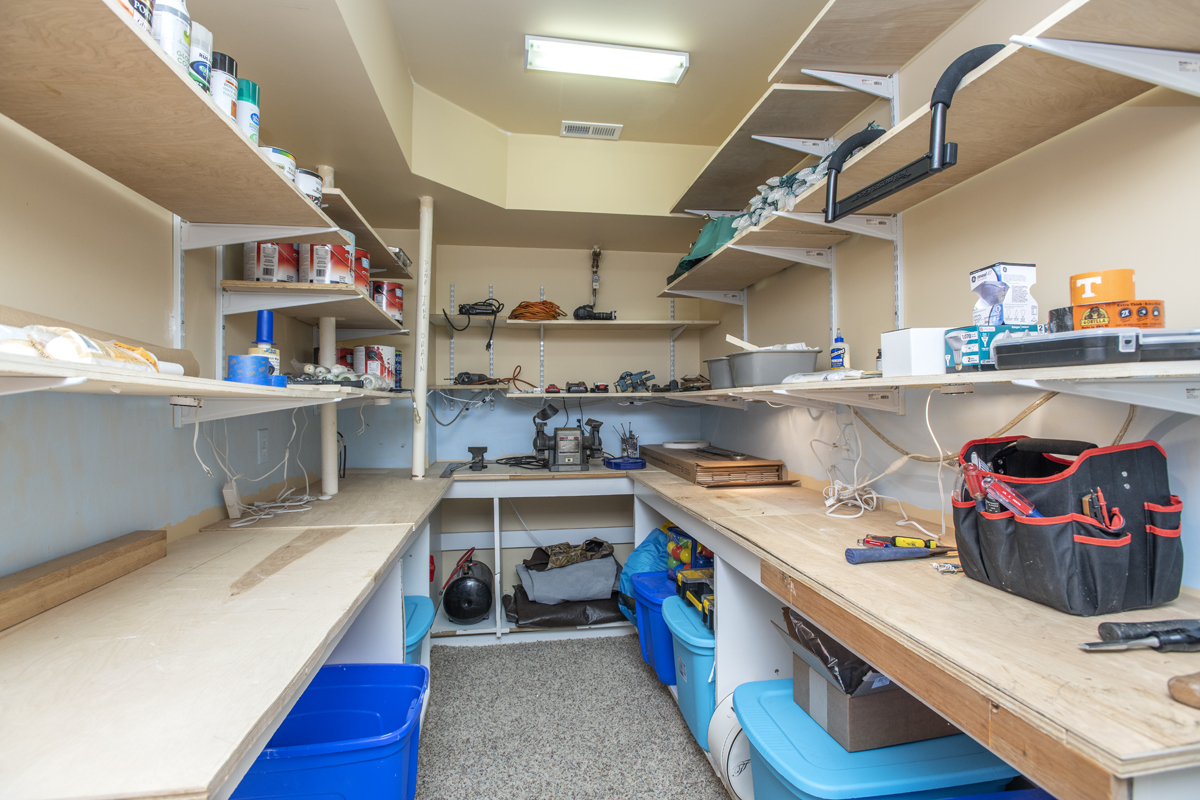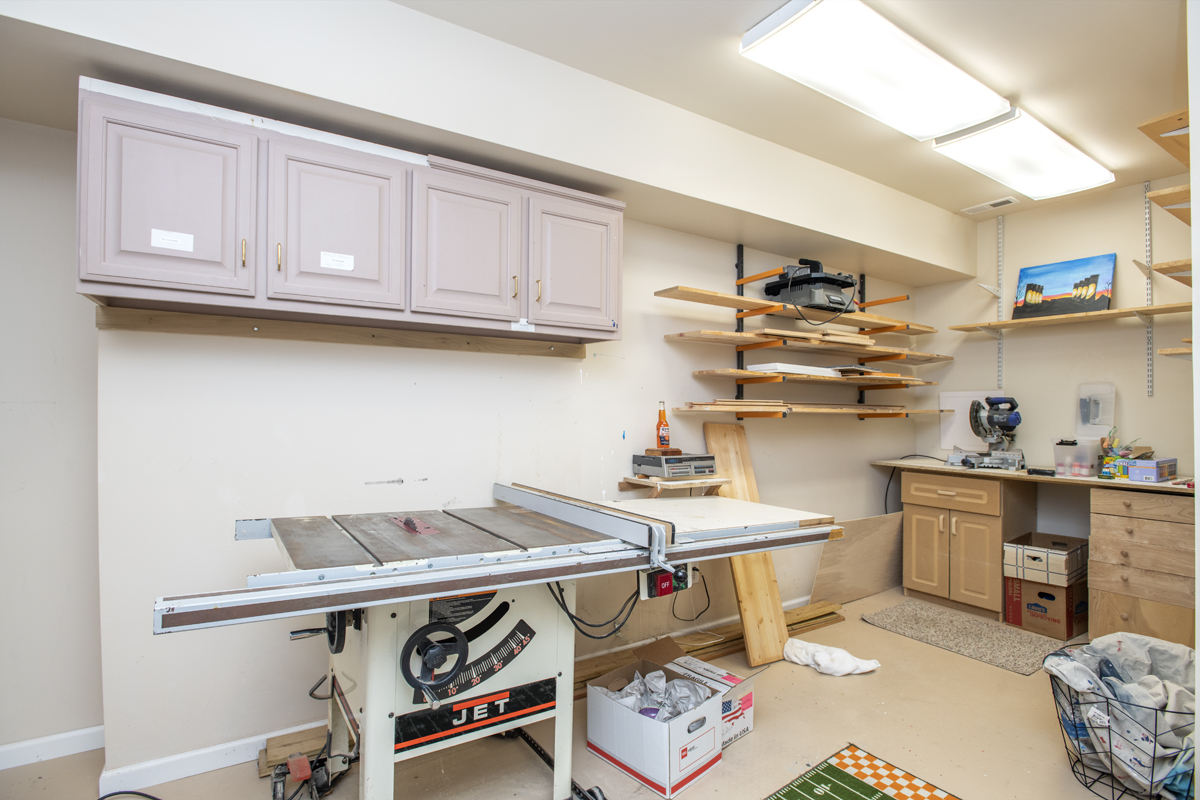 … and workshop! Can you see why we bought this house now? We also cleaned up this room in the middle of having our house on the market. Chris took down the built in shelves, racks, and desk and we painted the walls and ceilings to freshen it up.